Join us!
Russian Christmas Music
Tuesday, December 6, 2011
7:30 p.m.
San Joaquin Delta College
Warren Atherton Auditorium
5151 Pacific Avenue
Stockton, California 95207
featuring
Stockton Concert Band
performing:
March of the Toys – Victor Herbert, arr. by Langey and Clarke
Patapan – Shelley Hanson
Funciculi-Funicula Rhapsody – Luigi Denza, arr. by Yo Goto
Stockton Wind Ensemble
performing:
Variations on Carnival of Venice – Jean Baptise Arban
Special Guest Soloist: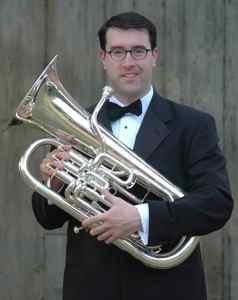 Matt Tropman
Matt Tropman currently serves as Tuba/Euphonium instructor at the University of the Pacific in Stockton. Prior to joining the Pacific faculty, he held a similar position at Eastern Michigan University and was also Executive Director of the Brass Band of Battle Creek. As a former member of the U.S. Marine Band (President's Own), he frequently performed as a soloist throughout the U.S., including at The White House. Dr. Tropman is an active clinician and recitalist, having performed and taught throughout the U.S. and Europe. He recently published a euphonium method book and has numerous other pedagogy projects in development. Dr. Tropman has released two CD's: Continuum and From the Balcony which have been featured on programs such as NPR's "All Things Considered," and CBC Radio's "Disc Drive" and "Music and Company." About From the Balcony the New York Times reviewer observed that "Tropman makes a serious case for the euphonium as a solo instrument." He has performed with numerous bands, orchestras and chamber groups under conductors such as Leonard Slatkin, Neeme Jarvi and Vladimir Ashkenazy. Dr. Tropman received his Bachelor's degree from the University of Michigan, Master's degree from Arizona State University, and Doctor of Musical Arts Degree in tuba performance from the University of Michigan.
San Joaquin Delta College Symphonic Band and Wind Ensemble
performing:
Symphonic Overture – Charles Carter
Celtic Carol – Robert W. Smith
When Jesus Wept – William Schuman
Three Dance Episodes – Aram Khachaturian arr. Hunsberger
1. Dance of the Greek Slave
2. Dance of Phrygia
3. Sword Dance of the Young Thracians
Invictus – Philip Sparke
Grand Finale Performed by Both Bands:
Russian Christmas Music – Alred Reed
Tickets available now from the Delta College Box Office:
Adults: $ 8.00
Students & Seniors: $ 5.00
There is ample parking available at a cost of $1.00. Purchase a parking permit from any of the kiosks situated in the college's parking lots and display it on the dash­board of your vehicle.